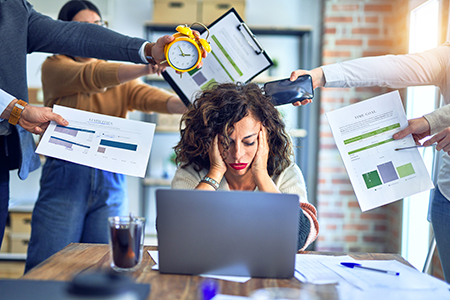 These are stressful times we are all facing in the age of COVID-19. This past year has taught us more than ever how important our mental health is. Our mental health includes our emotional, psychological, and social well-being. It affects how we think, feel, and act.
There has been a social stigma in our society around mental health for far too long. In 1992, the World Federation for Mental Health declared October 10th World Mental Health Day. This day has brought awareness to mental health education and mental health issues around the world. The biggest benefit has been helping people connect in efforts to support mental health. This cause has also enabled people to talk about it more and realize mental health struggles are more common than you might think. In the US alone, 1 in 5 adults have a mental illness.
Regardless of where you work, jobs can be stressful, and it's normal to be overwhelmed at work from time to time. Some common causes of feeling overwhelmed at work can be due to having numerous assignments without the capacity, tight deadlines, staff cutbacks, and work overload. It's the nature of employment that every job comes with its good and bad days. How you choose to handle those days though are up to you.
Read more ›