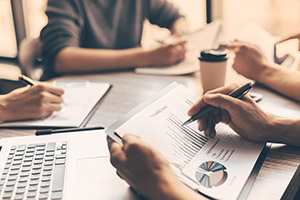 At the turn of the century, we couldn't get enough data. By 2010, we had a multitude of data. Now, we're swimming in more data than we can possibly use.
Gartner recently noted that organizations use only a fraction of the analytic potential they possess. As organizations further embrace this idea of business intelligence and data analytics though, leaders are realizing that it's more about the process of fact-based problem solving than it is about the data itself. Data is just the oil that helps business run smoothly. Leaders need to build engines based on powerful critical thinking capabilities, not just big data repositories, to deliver better results.
Traditionally, managers tracked and reported against key performance indicators. While some lessons may have been gleaned from this rearward-looking approach, it left companies largely blind to what laid ahead. So, how do leaders take a more proactive forward-looking approach to where they want to take their businesses? How do leaders better allocate their precious resources? What are their expected outcomes, and how do they know their actions will produce those desired results? These are critical questions to address. Determining what data is required to provide these insights is secondary to defining these problems and opportunities.
See below for eight critical steps you can take to advance your company's data analytics maturity. The process actually begins before you ever collect your first data point.
Define the Problem
You cannot fix everything all at once, and you cannot analyze all the data you have to develop a solution. You need to use a process that addresses the most meaningful issues to your organization. You first need to define the problem you are attempting to solve.

Begin by assessing your company's challenges and prioritize the opportunities. After homing in on the most pressing matters, then you can determine what data is required to prove or disprove your hypotheses about potential solutions.

Identify where the data resides so you can efficiently solve problems. Leverage the specific data you can access to make better, fact-based decisions.


Establish Your Goals
Start with a definition of your organization's goals. Goals are typically categorized into three areas:

A. Financial – revenue, cash, assets, etc.
B. Operational – inventory turnover, stock levels, employee retention, etc. and
C. Sales & Marketing – customer acquisition, customer retention, customer satisfaction, etc.

It is important to contextualize your measurements and compare across sites, geographies, business categories, etc.


Define Your Priorities
Once your goals are set, define your priorities. What is the focus of your business this quarter? What are the one to three things that you can do this period to have the greatest impact on your business' performance?


Define Your Desired Outcomes
What does "good" look like? Outcomes might be described in terms of visibility, quality, cost control, productivity, standardization, efficiency, transparency, and sustenance. Transparency, for example, enables trust among suppliers and customers, enabling them to make decisions in time of need. This can lead to re-engineering sales and operations, enabling enterprise transaction management solutions, enhanced customer service solutions, and integrated lifecycle management.

A leading supply chain company, for example, recently decided to build a transparent system to track location and condition of products to ensure quality and efficient delivery. By providing its customers real-time access to critical data they are now able to process orders and invoices quicker and more accurately. The result was a reduction of thousands of hours previously spent reconciling inventory and billing.

A popular desired outcome is "data monetization." Monetizing data can be simply selling your data to an interested party, or it can be a value-added product or service that wraps data around existing products. For example, one of our clients now uses data from their labor management system to reduce overtime and schedule their staff more effectively, significantly reducing labor cost. Another client now performs account-based profitability analysis with enhanced customer profile information, which enables more successful go-to-market strategies.

Data-driven business solutions can greatly improve sales and increase operational efficiency not to mention act as a value-add service to your customers. Using customer data to improve your operations and, in turn, provide better customer service can yield both direct and indirect value. You may be able to charge a premium for better service. Or delivering better service should secure longer-term customer relationships and your ability to sell more over time.


Develop Your Hypotheses
It's important to do a gap analysis of where you are versus where you want to be. Develop hypotheses for closing the gap. You can use simple if/then statements to test your hypotheses. For example, "If we replace the batteries in our forklifts on a consistent schedule, then we will experience less interruption and equipment downtime." Understanding the gap helps to set expectations for how much time, investment, and resources will be required.

You will note that until now we have not actually discussed data. Rather, we have taken a strategic approach to problem solving that allows for efficient and effective solutions. Taking this data-driven analytical approach requires identifying and prioritizing business issues first.


Anticipate Outcomes & Interconnectivity
We must understand the interconnectivity of all aspects of the organization so that we can anticipate outcomes and make efficient and effective decisions. For example, we could easily understand that by investing in marketing, we should expect an increase in sales. What we may not fully consider is that an increase in sales will require an increase in inventory, which in turn will require an increase in production

Questions will begin to arise as to whether or not you can fulfill this additional demand. Can your suppliers keep up? Do your transportation and logistics have capacity? What are the financial impacts on the business?

This general example demonstrates how a holistic mapping of the problem is required. To create the overall map, you need to interview your key stakeholders to gather perspective from each department. Start with your prioritized areas and perceived gaps, review with stakeholders, and adjust as needed. Also consider the potential sales increase and/or cost reduction potential.


Perform Analysis
Once your problems are properly defined, the analysis can begin. Now that you have some focus on what you are trying to solve, you can determine what data is required to prove or disprove your hypotheses. It is also important to note where the data resides so you can efficiently acquire the data.

If you use business intelligence tools, have clean data, and possess data analytics abilities, you can cost effectively run experimental models to see how to best focus on the required actions.


Take Action
The final step is to take action. There is a myriad of ways to move forward successfully, so the key is to do something. Doing nothing will simply bring more of the same. More than that, if you have taken the first seven steps above, you should reap the rewards.

Ideally, you will have a well-crafted plan of activities that drive your desired results. Developing 30-, 60-, 90-day action plans with major milestones and performance metrics will ensure that you pursue the path to success as efficiently and effectively as possible. Your action plan should also align with your longer-term strategy for the business.

While we believe in the value of strategic planning, a CEO friend of mine likes to say, "I'll take a B-level strategy with A-level execution any day." As your team begins to take action, it is important to track your performance and display it so your team members know the "score" and what else they may need to do to achieve your stated objectives.
One advantage of this data-driven approach is that you can track and even predict how certain actions will impact business performance. With a significant level of confidence, you will know when to stay on the course and when to pivot. Even a well-crafted plan cannot take into consideration all variables, so you need to ability to be nimble and make course corrections, or even wholesale changes, as your analysis dictates. No one is right all the time but utilizing data to facilitate your critical thinking will result in better fact-based decisions.
Creating and implementing a data-driven approach to solving business problems can be anywhere from a one- to five-year journey. It involves establishing a culture that embraces problem-solving, hiring for and training the right skills, and enabling a leadership mindset from the top.
Where on the data analytics journey is your organization? Where do you want it to be? Give me a call at 310.589.4600 or email me directly for some additional thoughts on how best to get started or perhaps move forward with better data-driven decision-making. Or visit the Performance Improvement page of our website for more on how we partner with business leaders like you to address their greatest business performance challenges.