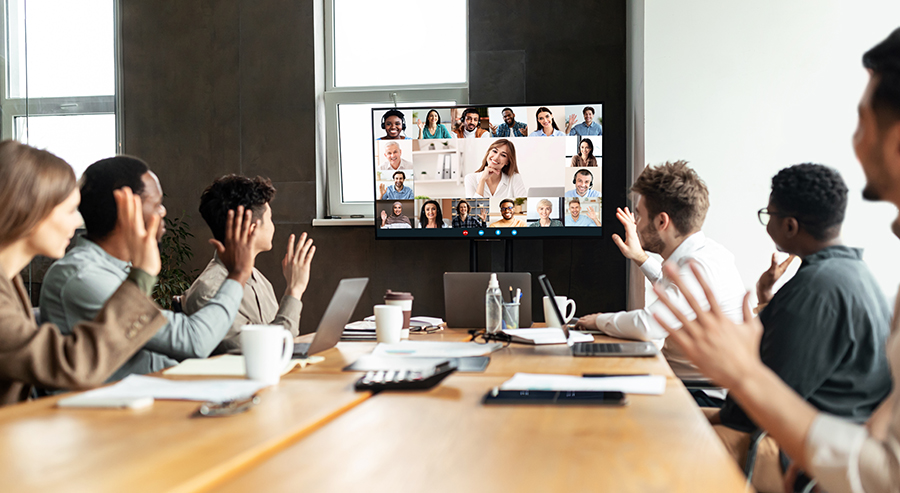 When my partner and I got married in June – in the middle of a pandemic – we wanted to bring together friends and family to join us in celebrating this special moment in our lives. After exchanging our vows in front of a handful of family and friends (and nearly 400 virtual guests from around the world!), we realized we had pulled off something pretty unique.
The pandemic required us to rethink how to make this milestone special for us and our guests. The receiving line and seating charts at our reception were replaced with Zoom breakout rooms and virtual hellos with groups of friends. Pre-mailed celebration kits replaced a traditional cocktail hour. A virtual MC guided our friends through a virtual reception. Different? Absolutely. But you know what? It was fun!
Why share such a personal story in our blog? Because there's a distinct parallel between how we reimagine gathering together for a life event and how we reimagine welcoming new team members on board. All the similarities are there – receiving new hires into your corporate "family", gathering teams together to celebrate a milestone moment and new beginnings, coordinating all of the behind-the-scenes logistics to make it happen – seamlessly. And with the "Great Resignation" upon us, there's never been a better time to rethink onboarding practices than right now!
This term, first coined by Texas A&M's Anthony Klotz in his prediction-turned-reality of massive pandemic-driven job changes from the workforce, has come to describe the record number of employees leaving their current roles for new opportunities. In this Great Resignation, two trends have emerged:
Forward-thinking leaders are capitalizing on this seismic workplace shift to attract new talent, and
Strategic leaders are increasingly viewing employee engagement as a strategic tool to protect their people investments.
Intentionally engaging your employees from the very moment they walk through your virtual door is critical to your continued success. And since virtual work is here to stay, we prepared our Top 5 recommended tips to help you reimagine your virtual onboarding experience.
Create a welcoming experience that furthers your brand: Be creative and identify fun ways to extend a virtual welcome to your new hires. It may seem simple, but a virtual welcome kit is one of the easiest ways to have new hires feel welcome while also showcasing your brand. What creates a feeling of belonging? Maybe a branded coffee mug with a gift card for a local coffee shop, for example, or perhaps a hand-written welcome letter on company stationery from your hiring manager.

Plan virtual gatherings & thoughtful communications: One of the greatest challenges for new hires is learning "who's who" at the company. This is especially true in virtual environments, so provide as much information as you can ahead of time, including organization charts, relevant position descriptions, etc. Also consider assigning an "Onboarding Sherpa" from HR or other New Hire Buddy from the new hire's department to make any necessary team connections and guide them through their first month on the job.

Ensure a seamless tech experience: Technology "hiccups" at the onset of a new hire's orientation not only undermine your brand but also impact your new hire's ability to do their job. Develop reliable and repeatable HR and IT processes to ensure your new hire has access to all the required systems, including instructions for contacting your IT Help Desk as needed. Provide appropriate role-based access and ensure that hardware is provisioned, software is loaded, and those system privileges are ready to go on Day 1.

Provide role-based training: You've rolled out the virtual red carpet to help your new hire feel at home. Now it's time to give them the training they need to succeed in their position. If your organization has a Learning Management System, you can pre-assign role-based training content based on your new hire's job family. If you're not quite there yet, consider recording a few short videos of experienced team members performing any key tasks. It's one of the most effective ways for new hires to understand your particular systems and business processes.

Explain how work gets done through any organizational norms: Most organizations have a set of corporate values that are included in an employee handbook or website, but the best ones show their employees what it looks like to live these values. If you haven't already, make sure you empower your teams to define what values-driven behaviors drive performance at your organization. Remember, these behaviors can look very different in a virtual environment, so make sure you highlight everything from a work-from-home dress code to using video during virtual meetings to expectations for email response times to text messaging for urgent communications. And don't forget to update your employee handbook to reflect these new ways of working!
The strategic investments you make into your virtual onboarding today can help you effectively engage your employees right from the start. The first 100 days are the most critical for any new team member, so you might even consider a post-employment personality assessment (i.e., Myers-Briggs, DiSC, or CliftonStrengths) to better understand your new hires' communication preferences and natural styles. This will all lay a strong foundation whether you maintain a virtual workplace or potentially return to an in-person office environment one day. Are you ready to rethink your onboarding process? Want to get clear about the key values and behaviors that drive outstanding performance at your organization – especially in a virtual environment? Or perhaps you just need to update your employee handbook in line with today's virtual reality. Give us a call at 310.589.4600 or email us to discuss your very next steps. You can also visit the Talent Management page of our website to read more about refreshing your broader employee engagement practices to ensure your employees are meaningfully engaged.