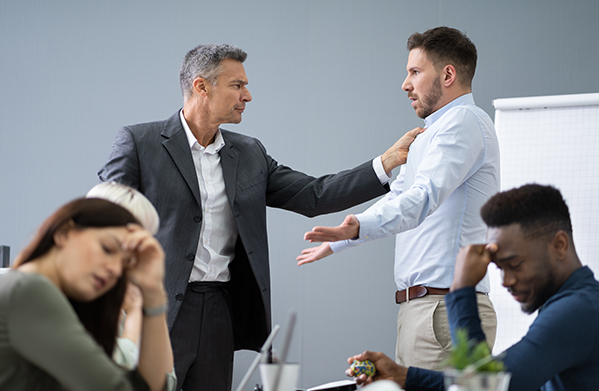 Managing a complex merger integration and keeping your sponsors and key stakeholders engaged is hard enough. So what are you supposed to do when your sponsors don't get along with each other? How do you keep the multiple workstreams on track and deliver a successful project?
This is a story about the acute challenges a project manager faces when senior leaders across a company don't get along. For the sake of confidentiality, actual names and details of the effort have been changed.
The Backdrop
Let's start by acknowledging this was a virtual engagement. Our project management team worked from several sites – including numerous home offices – in multiple time zones across the US. Other than the initial in-person pre-COVID kickoff, the team never saw each other "live." We managed the entire project via Zoom, phone calls, texts, and emails.
The newly acquired division Lima was 1,500 miles away from the parent company Romo, so face-to-face communication was going to be difficult no matter what. Compounding the issue was that people were not able to travel freely or meet in person due to COVID-19 restrictions. The companies quickly set up video systems in each location to communicate important messages on Day 1 of the acquisition and throughout the next several months. Bob Brown, a former private equity partner and executive of the parent company, was put in charge of Lima because of his vast experience in this specialty business.
There was some mention to the project management team that Bob worked with Romo before and that he brought significant experience to the effort. What the sponsors failed to mention were the details of this past relationship. Only later did we learn that the CEO of Romo had some very vocal disagreements with Bob, and there was concern that Bob's management style could impact the speed of the integration.
To add to the complexity, Romo hired a new head of Sales & Marketing. Fred started his job just 30 days before the acquisition closed. Fred previously worked for a large company, with very tight processes and a metrics-driven culture. As the new guy on the team not able to easily engage with his colleagues given the travel restrictions, Fred felt pressure to immediately add value and prove his worth. To his credit, Fred quickly learned the details of the company and managed as well as anyone could to motivate his team. Fred, however, had a tendency to overstep and offer advice to the CEO about how to improve other areas of the business, like Bob's territory.
Fred was trying to be helpful and didn't intend to create trouble. There also were salespeople at Lima who reported to Fred, although Bob initially thought everyone at Lima reported to him. These blurred lines of responsibility impacted relationships and clearly needed to be addressed.
For the first few weeks as everyone scrambled to prepare for the acquisition to close, manage Day 1 activities, and begin their post-integration work, these issues between Bob and Fred were unnoticed or perhaps simply overlooked. However, things got interesting as the workstream leaders began their integration activities and the dependencies kicked in.
What Happened
About two weeks post-close, it got ugly. Along with the project sponsor and the CEO, Fred and Bob were on one of our weekly sync calls with the joint sales teams from Romo and Lima.
At that point, the reporting structure was still unclear. And the clash of personalities came out in front of the whole team and both executive leaders when Fred suggested the company adopt a stage-gate approach. Bob's more "shoot from the hip" management style was threatened.
Bob and Fred had a few minutes of heated argument. They needed to air it out. Unfortunately, doing it in front of management and the entire sales team was not the best forum. Furthermore, those "differences of opinion" carried over to the day-to-day work and created stress for the team.
How It Was Resolved
The uncomfortable situation forced our team to play counsellor at times. It, however, also gave us the opportunity to add value.
Bob did not want to create major change in the fragile new organization. He was right to protect what was working. Fred wanted to implement a fact-based decision process to drive efficiency. He was right to want a better process.
So, our team jumped in with an offer to map the current process and facilitate a gap analysis with the two sides. That way, Fred could see what was currently working, and Bob could see where improvements could be made.
It took about a week to gather the information, validate it, and lay out the existing workflow in a "swim lane" process map. Bob and Fred brought in the head of Operations at Romo to review the map with them and compare it to the process that Romo used. As it turned out, some parts of Lima's process were found to be better than the one used by Romo.
Now, both sides had something tangible to work with. Bob and Fred got validation that each was doing the right thing for the company, and they could collectively work on improvements to the process over time.
It took about two weeks for this entire situation to get resolved, but we never saw a flare up between Bob and Fred for the remainder of the project.
Our Impact
During a Steering Committee call toward the end of the project, the CEO recognized our project manager specifically. He said how much he appreciated the effort, and he looked forward to working together again.
The project sponsor shared this was the first of many acquisitions they had in mind. Since we had done such a great job to manage the project and key workstreams, hitting targets on or ahead of schedule despite all the challenges, they intended to have us support their future work as well.
There were several things that our project management team did to add value to the process, this being just one example. Our constant efforts to make this integration as smooth as possible for the clients, their companies, the project sponsor, and all the people involved is what led to the positive result.
Lessons Learned
Sometimes we find it is our job to go outside the lines to get the job done. We must manage not only the processes and systems, but also the people. We must stay mindful of the objectives and do what we can to resolve issues to keep a project on track. When you put the organization's long-term interests first and focus on making everyone's lives easier, things have a way of working out.

Are you in the middle of a complex organizational change effort? Trying to implement some positive changes while transforming – or perhaps integrating – your business? Give me a call at 310.589.4600 or email me directly for some additional thoughts on how best to manage your risks and deliver a successful engagement. You can also visit the Performance Improvement page of our website for more information on how we regularly enable business leaders to address their greatest business challenges and increase the value of their businesses.