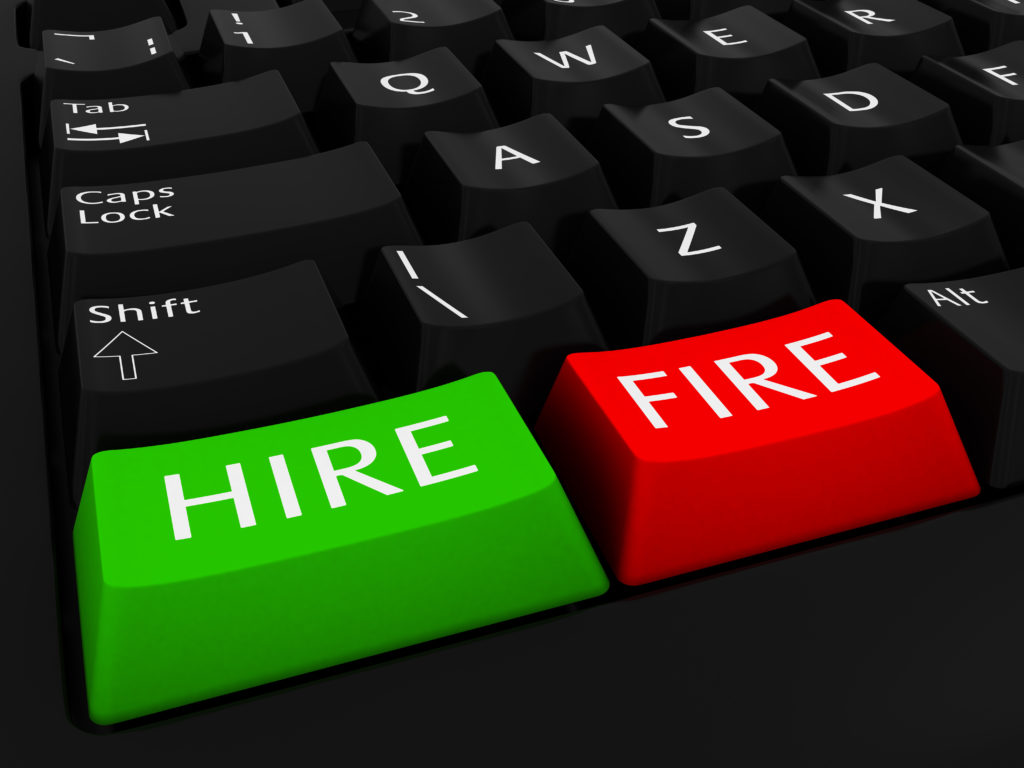 I participated in a leadership workshop for other CEOs and business owners several years ago, and the speaker shared one poignant remark that has stuck with me ever since! In many organizations, we have a tendency to hire very fast and fire very slow. While this may feel like the right thing to do in the heat of the moment, it rarely produces the results we're looking for.
So why do we do it? More importantly, what can we do about it? The first step to solving this problem is understanding the root causes, so here are several reasons why leaders tend to hire fast and fire slow in most organizations. 
Hiring Too Fast:
Don't feel bad. There's a natural psychology to why we hire so fast.
When we're short-staffed and under pressure to get the work done, we typically want to get someone into that open seat as soon as possible.
When we meet a candidate for the first time, he/she is usually on his/her best behavior and puts his/her best foot forward, so we tend to be believe that first impression is sustainable.
With unemployment at all-time historic lows, hiring managers tend to do the same thing by trying to sell the job and close the deal rather than find the right fit for the position and broader organization.
Hiring managers also regularly neglect to establish clear selection criteria and in doing so make more emotional and subjective decisions rather rational and objective choices about each candidate.
Firing Too Slow:
Don't worry. There's a natural psychology to why we fire so slow too!
Sometimes leaders keep their existing employees even if they aren't meeting expectations because they aren't sure how to replace them – or in the case of a hiring freeze, they know they won't be able to replace them! – and figure it's better to have someone rather than no one.
Leaders often keep those poor-fit employees around much longer than they should when they have "good technical skills" that supposedly make up for their "bad behaviors".
Given the litigious world in which we live, many leaders who haven't been diligent in sharing constructive feedback keep their difficult employees onboard to minimize any potential corporate liability and avoid being sued.
Leaders also avoid letting people go because they don't want to hurt their employees' feelings, or they worry about the negative affect it might have on their families or personal lives.
So the next time that you're in this performance predicament – either short-staffed looking to hire or perhaps wondering if it's time to let that under-performer go – consider how best to avoid this organizational conundrum. Firing someone is perhaps the hardest thing we ever have to do as leaders, so bringing someone on board too soon obviously carries a lot of risk. On the flip side, I'd offer that helping someone find a better fit in another role and with another organization is far more compassionate than keeping him/her around because you don't want to hurt his/her feelings. Maybe more importantly, the cost of keeping that person onboard for you and your team tends to far outweigh any value he/she might bring.
Need some help with your hiring and firing practices? For specific recommendations on what you can do to enhance talent management in your organization, give us a call at 310.589.4610 or email us today. You might also visit the Change Management page of our website for more information on how we can help you improve performance by implementing some positive changes in your organization.