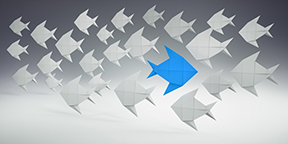 For more than 20 years now, I've been leading all kinds of change efforts in all kinds of organizations. New CEOs and business leaders with new visions or strategic objectives. Merger integration between two previously separate companies. Technology implementation to upgrade business systems. Small family businesses, high-growth companies, Fortune 500 corporations, not-for-profit organizations, and government agencies.
The one constant in all these efforts is PEOPLE. People commissioned with implementing the changes. And people on the receiving end who may or may not want these changes to be implemented. For better or worse, Andersen Consulting (now Accenture) coined the term "change management" back in the '90s, so many business leaders more commonly think about managing these complex – often contentious – changes as if it is merely a process you can manage from start to finish rather than leading them forward with the people most impacted by them. The largest association of professionals who specialize in this field even named itself the Association for "Change Management" Professionals just a few years ago. When are we going to learn that we can't manage change any more than we can manage people's reactions to and experiences of change? 
What's always so interesting to me is how the people who "manage" organizational change efforts often worry about resistance to change. What if they don't like these changes? What if we fail to achieve our objectives because they don't adopt these changes? Well what if you realize that resistance to change can actually be a good thing? More than that, you run the risk of creating a self-fulfilling prophecy when you do this. What you yourself resist persists!
To be clear, I'm not expecting you to celebrate or even condone subversive sabotage. I am, however, offering that some people resist change for what they perceive to be effective and appropriate reasons. As experts in the business, maybe they know something you don't know? Maybe you missed something in your early assessment or planning processes. The sooner you embrace the idea that resistance can be helpful and treat this feedback as being constructive, the more likely you are to determine how best to enroll any resistors in your overall plan.
The following are some other proven principles for leading successful change efforts in organizations.
Work with your Executive Sponsors and other senior leaders to define what success looks like early in the lifecycle of your project.
Don't wait until the last minute or even until you feel you have all the answers to tell people what's happening. Communicate early, communicate often. Communicate what you know when you know it!
Don't assume anything. Ask! Your employees – especially those impacted most by your changes – will tell you what they think and feel if you open the lines of communication and are willing to listen.
To minimize resistance and gain everybody's buy-in, engage them in the design process – especially if they are going to be impacted by your changes. People want to play a part in designing their own destiny, not feel like they are merely the recipients of whatever you may be dishing out at them.
Identify exactly who can serve as your Change Champions. You'll need to establish a network of these individuals across work sites and/or departments to serve as your communications hubs and filter information back and forth.
Determine what specific training and support people may need to adopt your changes. And then provide it! It's not fair to implement a new computer system and expect everyone to figure it out on their own. Or to say you'll provide additional resources to support their work when they do attend training and not prioritize it.
Conduct one final readiness check before implementing your changes. Even if you have delivered a comprehensive training program, it's important to do this last check-in to make sure everybody really is ready to change. If they aren't, confirm what additional support they may still need.
Evaluate the success of your change effort after the conversion. On-time and on-budget are nice goals to have, but they don't represent a sustainable change in behavior. That's why you need to evaluate whether or not you achieved your intended results or if perhaps there is more you need to do.
Develop and implement continuous improvement plans based on that evaluation. The project doesn't end just because you flip the switch or announce the change is effective. People will have post-implementation needs long after the transition occurs.
Some of us are naturally wired to embrace change. Many more of us are not! This isn't something to fear or shy away from. That simply represents another form of resistance. Instead, we invite you to embrace that fact and really connect with anyone who might show signs of resistance to your changes.
Ask them about their concerns. Partner with them to identify possible solutions. Explain to them what you can do even when there are some things that you probably can't. More than anything, most people simply want to be acknowledged and feel heard. They don't want to have things done to them, but instead with them.
Are you trying to implement changes that will impact significant groups in your organization? Need some help developing a plan and enrolling them in your change effort? Give us a call at 310.589.4610 or email us today. You might also visit the Change Management page of our website for more information on how we lead organizational change efforts rather than trying to manage them.