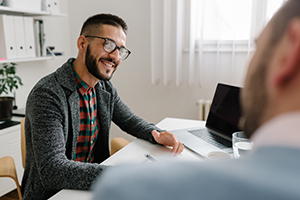 The Human Resources function can be quite misunderstood in many organizations. People often think it's the group who plans the parties or who fails every year to keep the cost of our benefits down. Maybe worse, it's the folks who make us complete performance reviews at year-end when we're already too busy to do our "real work"!
Not too long ago, we actually had "Personnel" departments in organizations. Over time, these groups were renamed, but the work and their stereotypes really haven't changed. As we assess the current state of HR in organizations and consider what drives high-performing organizations, it's clear that someone needs to attend to these critical people functions.
In larger corporations, HR departments regularly consist of talented specialists who lead each of the various functions across the employee lifecycle. Talent Acquisition specialists lead recruitment and selection until prospective candidates are hired into an organization. HR Generalists (often referred to as HR Business Partners) then support those new hires during their initial on-boarding activities and beyond with fundamental HR tasks. Training and Organization Development specialists provide more focused attention to supporting the next-generation of leaders and facilitating other organization effectiveness activities. Specialists in other areas like Payroll, Compensation, and Benefits also support an organization's workforce. What do you do though when your organization isn't big enough to hire all these functional specialists?
In smaller organizations, HR tends to be nothing more than a legal compliance function more in line with what was once called Personnel. In fact, it's not uncommon for the senior HR executive in these organizations to be the CFO or General Counsel. While these professionals might be skilled at performing the basics and minimizing potential liabilities for an organization, neither will likely be effective managing the employee lifecycle experience. So when is it time to hire a true HR professional?
The best way to evaluate the need for a more formal HR function is to consider the opportunity cost placed on your business. If the CEO of a small business is the first person screening and interviewing candidates, then we might want to engage a part-time recruiter to perform this critical role. If your General Managers or other senior leaders are developing their own training programs for their direct reports, then again we may be using the wrong people to perform these key tasks.
There are plenty of consultants who provide specialized outsourced HR support to organizations that are smaller or perhaps just growing slowly. Once an organization reaches 50 employees, it's more likely that a dedicated HR Manager will be needed. At more than 100 employees, it could be a more seasoned HR Director who is required to guide the efforts of other HR staff and people champions across the organization. Ultimately, the decision rests with the owners and senior executives of small to mid-market companies.
Do you want to create a high-performing organization? Can you manage the added cost of an HR professional by leveraging other business leaders without over-burdening them? The answers to these questions will help you determine when to hire a part-time HR consultant as well as full-time HR specialists. If you have more questions about when to engage an HR leader to support your work, call us at 310.589.4600 or email us to discuss the possibilities further. You can also visit the Change Management page of our website for more information on how we support our clients with their critical HR initiatives. We're here to help you implement some positive changes in your organization and take your business to the next level!