Marshall Goldsmith may have said it best when he declared, "What Got You Here, Won't Get You There"! That was a powerful A'ha moment for me as I've always known that I am likely the greatest obstacle getting in the way of my future success. Before reading Goldsmith's book though, I never had the language to articulate what seemed so obvious to me.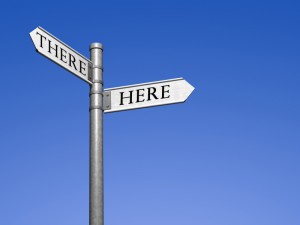 Whether it's in the business I founded more than 10 years ago or in my personal relationships and other day-to-day activities, I don't know what I don't know and therefore continue to operate in ways that I have in the past until I realize that those behaviors and approaches don't actually produce my intended results. Well, it's about time I start looking at that with a more critical eye if I aspire to achieve greater success in my life.
What's interesting is that this dichotomy of "What Got You Here, Won't Get You There" is not just an individual phenomenon. It plays itself out just as profoundly in organizations too!
I'm now working with two different companies that are looking to leverage their core values and build upon their key strengths to get to the next level. First, there is the global trade association who in the past has predominantly been a North American-focused organization and now wants to expand internationally. With that said, the current President/CEO has been in his role for more than 30 years, and his predecessor was in the position for around 25 previously. Thus, it is safe to assume that through their dedication and perseverance for over 50 years now both of these executive leaders successfully established national presence for the organization and that continued efforts along those lines will not create the same overseas.
In addition, I'm also now supporting a nearly 40-year-old, more than $1B company who wants to elevate their learning programs and become a world-class leader in people development. As we embark on that journey together, I continue to be amazed at how rich the organization's culture is and how much their core values truly do guide the actions they take together. What worked in one store in one metropolitan area many years ago, however, will not be as effective in helping this company get to the next level with continued expansion now that they have approximately 1,500 stores in operation.
So the question is how do we honor our past while remaining focused on the future. What got us here got us HERE. I am a firm believer in acknowledging that and holding the essence of our past accomplishments sacred as we chart our course for the future. More of the same, however, likely will not get us where we intend to go, so we need to find a balance with introducing new behaviors and guiding principles that allow us to change and adapt to new market opportunities while honoring the core of who we are – as individuals and as organizations – while we continue to evolve and grow.