So much time and energy goes into finding top talent and then wooing these rockstars into our companies, so why is it that typically so little time and energy is devoted to on-boarding these folks once they do accept our offers? If anything, it would seem that business leaders should actually invest more time and energy into the process at this critical juncture to ensure that their new employees are truly set up for success as they get started.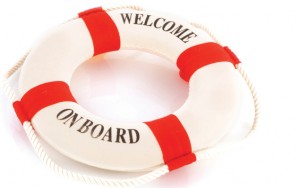 For those who agree, we offer you the following 5 "must dos" to create a world-class on-boarding experience and enhance the results of your critical on-boarding efforts.
Day One orientation and welcome from both HR and Hiring Managers – Day One is not just about compliance and formalities, so make sure your Hiring Managers greet their new hires with open arms right away such that they do feel welcome – and compelled to stay past your obligatory Day One training!
Week One game plan – The new hire experience doesn't end after orientation does on the first day. Your new hire's transition will continue for quite some time, so it's imperative to have a game plan for the whole first week that includes meet-and-greets with key stakeholders, multiple planning sessions with direct supervisors and reports alike, etc.
Visibility and credibility right from the start – When new hires are brought in from the outside, they typically don't know anybody on Day One other than those people who interviewed them. Create a "reputation management campaign" for your new hires and give them multiple opportunities not only to demonstrate their competence but also share their passion and vision with others as soon as they are comfortable doing so. This will make it much easier for them longer-term.
30-60-90 Day Check-Ins – Time flies by fast for new hires, and the initial "drinking from the fire hose" will quickly turn into the all-too-common routine of using that same fire hose to fight fires on a daily basis if you're not careful. Hiring managers need to schedule regular check-ins with their new-hire direct reports every month for the first 3 months – or until regular performance management processes kick in – to ensure alignment continues well past the final interview.
New-hire buddy systems – And maybe most importantly, your new hires need someone on the inside to show them the ropes – no matter how mature and sophisticated they are when you bring them on board. That person really can't be their HR representative or direct supervisor either. It needs to be a peer who can be trusted with "stupid questions" they may have as well as share keen insights about the organization's culture – and politics – with them before they inadvertently commit career suicide!
 By the way, I'd be remiss if I didn't also clarify that creating a world-class on-boarding experience actually begins before you even select your new hire and offer him or her the job! To enhance your interviewing and selection processes and create the foundation for successful on-boarding to occur, read Successful Interviewing Techniques for Hiring "STAR" Employees. You might also want to read Are Your People Really Doing The Best They're Capable Of? Your Organization's Future Depends On Everyone Knowing The Score which details how best to manage your new hires for peak performance once they are on board.