After 33 years on the air and over 6,000 shows, David Letterman is now the longest-serving late-night talk show host in TV history. He started "Late Show with David Letterman" in the Ed Sullivan Theater in New York City for CBS on August 30, 1993 after leaving his previous role hosting "Late Night with David Letterman" on NBC, and last night he and his faithful sidekick and musical director Paul Shaffer left their mark on TV and the world around them.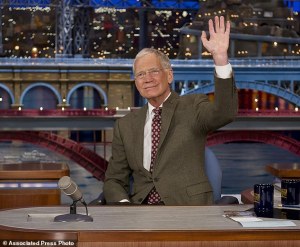 This past year, Dave left his mark on the field of succession planning too. How did Dave know it was time to move on? In his own humorous words during his final show, he shared that it was when the "cue card kid" said he couldn't make the print any larger! On a more serious note, I'm sure the decision to move on is bittersweet for Dave, not to mention the many members of his staff, as he clearly has a bit more comedy in him and rolling off his tongue. With that said, there is much we can learn from Dave's very visible journey this past year.  I simply call this "Letterman's Legacy" and three critical best practices for succession planning.
Beginning with the end in mind – Dave announced his plans to retire more than a year ago yesterday on April 3, 2014. There may have been ongoing conversations between Dave and CBS about this. Ultimately, the decision was he would leave rather than renew his contract, and this was announced well in advance such that the leadership transition and communications to ensue could be managed effectively.
Identifying the right successor – Exactly one week after Letterman announced his plans to retire, CBS announced that Stephen Colbert, host, writer, and executive producer of "The Colbert Report" and a Gen Xer, would replace the retiring Baby Boomer at the end of his run. While CBS may not have wasted much time announcing who the new "Late Show" host would be, I'm confident they spent a bit more time searching for and considering potential NextGen candidates for the role.
Honoring your history and celebrating the success – This past year has been nothing but a public celebration for David Letterman and the legend that he is. This past week in particular has been utterly spectacular for "Late Night" viewers. More than that, celebrity entertainers, staff members, and viewers alike have had the opportunity to acknowledge and thank Dave for his tremendous contribution. Even "rival host" Jimmy Fallon this past week shared his appreciation for Letterman and his sentiments of courage when he returned to the air after 911.
Few organizations stage this powerful of a process when transitioning from one leader to another. I know that when my father, the well-respected corporate attorney who, after 42 years with one of the largest law firms in the world, was the only one left who had ever even worked with the two named partners of the firm, retired he did not get a send off like this! That is just one of the many reasons why it has become my life's passion to enable organizations, and family businesses in particular, to continue long after their chief executives move on. CBS has clearly demonstrated this same commitment to succession planning and securing a sustainable future for the show. CBS Chairman and CEO Les Moonves, in fact, had this to say last year.
"Stephen Colbert is one of the most inventive and respected forces on television. David Letterman's legacy and accomplishments are an incredible source of pride for all of us here, and today's announcement speaks to our commitment of upholding what he established for CBS in late night."
Dave's final closing words before he turned it over to the Foo Fighters to sing their epic song "Everlong" last night were "Thank you, and good night." Wouldn't we all like to go out on top of our game and with a big bang like that? Congratulations Dave, and good luck embracing your "third act" in life!
For some valuable resources on leadership succession you can put to use right away, check out the Succession Planning page of Plus Delta's website. You might also want to view some of our Videos on the subject. The information there is geared towards both retiring business leaders like David Letterman as well as those of you who may need some fresh ideas on how to raise awareness for the importance of developing a succession plan for all of your key leadership positions. Just give us a call at +1.310.589.4600 or email us if you have any questions about how best to approach this sensitive subject in your own organization.