Whether we are coaches, HROD practitioners, internal or external consultants, coaching is an important aspect of the work we do. ODinLA, the premier networking community for Organization Development in the Greater Los Angeles area, is hosting a learning and networking event called "The Many Faces of Coaching: Where Organization and Coaching Intersect" next week to discuss this critical business topic.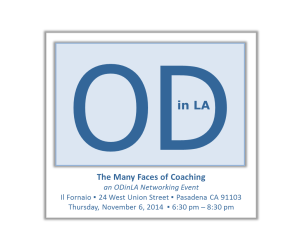 Come join Plus Delta's CEO Dr. Jeremy Lurey and a panel of other talented executive coaches specializing in several different niche areas of business coaching at this exciting professional event. Dr. Lurey will share some lessons learned from his direct experiences with group coaching over the past few years. In addition to highlighting some of the greatest benefits with group coaching, he will also explain why group coaching may now be a better investment than more traditional one-on-one executive coaching models!
This ODinLA MeetUp event is open to any business leader, OD consultant, or HR practitioner who wants to learn more about coaching. Just RSVP to Stephanie Jo Gomez if you'd like to attend. She is co-hosting this event with members of Kaiser Permanente's Organization Effectiveness Team.
Il Fornaio, Pasadena
Thursday, November 6, 2014 ● 6:30 – 8:30pm
Want to learn more about the benefits of group coaching? Check out this blog for more information on how Plus Delta's coaches work with high-potential leaders to help them develop the skills they need to succeed!