I'm a big fan of "Take Your Child to Work Day". I'm even an advocate for creating family-friendly cultures at work and treating everyone – especially line staff – like family. What I'm not a fan of is bringing family drama and unproductive relationships into the office. And probably the worst place of all for this dysfunction is the executive boardroom!
Family businesses by their very nature are complex organizations. On the plus side, they can transcend your everyday workplace by offering rich environments where family members can be more than just family. Family members can literally come together and build something – namely the company – that provides opportunities for not only financial gain but also community contribution. The challenge though is that family businesses also create the possibility for greater stress and anxiety that some family members are not equipped to handle when their familial relationships are not as positive.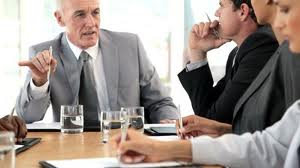 I don't care if it's married partners, brothers and sisters, aunts and uncles, cousins, or any mix in between. Families share history together, and this history can at times manifest itself in very hurtful and damaging ways at work. The goal of an organization is to "do something". That "something" may be producing a product or delivering a service. It may be selling direct to the public, or maybe it's creating a marketplace for business-to-business exchanges. Whatever it is, that's no place for family mayhem to ensue.
In the boardroom especially, it's critical to leave family personas – and emotional baggage – at the door. I've worked with some clients who continue to use titles like "Dad" in the workplace. For most however, I strongly advise against making these explicit familial connections at work. While it may be comfortable for many, it can have a negative effect on the next-generation leader especially. It can – even subconsciously – suggest to some that she is only in the business because she has the same last name as the CEO. Or maybe it's that he will always be subordinate to his mother and therefore doesn't deserve as much respect when sharing his opinions, making group decisions, etc. Where this also causes significant problems is with sibling shareholders who continue to perpetuate their relationships from the past – "kid sister", "big brother who used to beat me up", etc. And this can be devastating when trying to make strategic decisions about the future of the business – and family – during routine board meetings let alone other leadership sessions.
There are numerous tools that you can use to keep your family matters in order. Call a "family forum" to deal with your family issues away from work. Drafting a family constitution, for example, can also be extremely useful for establishing a family's vision for the future and defining some general guidelines for how a family will govern itself and the business moving forward. Whatever you do, please just don't relate to your family members as family members when that doesn't facilitate your work. Your family just doesn't belong in your boardroom!
Need some help managing the dysfunctional dynamics of your family business? Check out another one our most-read blog posts – What To Do When the Boss is Your Dad – for some additional insights and ideas. Or give us a call at 866.PLS.DLTA (+1.310.589.4600 outside the US).  Plus Delta's CEO Dr. Jeremy Lurey recently helped a 3rd-generation family business get back on track and pass the baton to their 4th generation, something that only happens about 3% of the time in the US!