Sounds like a good problem to have, right? You're actually probably reading this thinking to yourself, "How can you be too successful at anything?" Well, it may be a better problem to be excessively successful than to be failing miserably. I assure you though that being too successful can in fact create major business issues!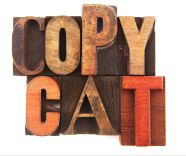 I have a good friend and @Vistage CEO colleague who runs an online retail company. She's in a unique niche of women's apparel and seems to do very well from a custom design perspective. So well in fact that one of the largest players in her space always seems to be promoting "her designs" on their website within a few months of her launching any new product lines.
Now I'm not suggesting any kind of foul play. I'm sure this larger company has a whole team of its own creative designers who watch market trends and develop their own products. I'm simply offering that when you are excessively successful you can literally create an environment of copycat competition by setting the standard for others to follow.
I was leading a strategic planning retreat with an educational institution recently, and this notion of being a positive role model for your competition came up. When this organization started roughly 40 years ago, there was no competition. They may not have been the first to recognize their underserved target market. They were, however, the first to mobilize the right resources to develop and deliver a program for them. Since then, that market has changed dramatically, and numerous other educational providers have shown up. As a result, this organization has experienced a steady decline in customer attraction and not surprisingly gross revenues over the past few years.
So what do you do to "keep those little monsters at bay"? That actually was a major focus of ours throughout the retreat. I would offer it is a critical question for you to answer too if you want to create a sustainable business – one that doesn't go the way of the one-hit-wonder hair band of the '80s.
One way is to maintain an external perspective and continually assess the market need, which will likely keep changing. Another is to continue reinventing yourself and your products/services in line with those changes such that you continue leading the market as your copy cat competitors strive to catch up. As Jack Welch always said, you have to be #1 or #2 in your market at all times, so don't get complacent just because you've reached the top. That success won't last long in today's tremendously competitive and adaptive marketplace.
Need some help envisioning your ideal future to stay a step ahead of your copy cat competitors? Check out the Strategic Planning page of our website for more information on how we work with leadership teams to plan their futures from the future so they don't ever become excessively successful. It's the best way we know to keep those little monsters at bay!