I still remember the first time I was promoted into a senior leadership position and all of a sudden had a couple of my best friends reporting to me. Weird, awkward, difficult, and challenging are all words that immediately come to mind to describe that situation. Not fun, not desirable, not collaborative, and definitely not a few other words I wish I could have used instead!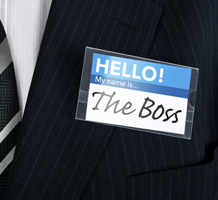 Much of my executive coaching these days is with Next Generation leaders who either were recently promoted or are currently being considered for promotions. One of the greatest challenges these NextGen leaders face seems to be managing the people who used to be their peers, and in many cases used to be people they considered to be close friends. Worse than that actually is trying to manage the people who didn't get those promotions because they may have some added resistance thinking they would have been great fits for the jobs.
If you think about it, this can be a very difficult transition not just for the leader being promoted but also those other employees to navigate. For the NextGen leader stepping up, he/she will need to start thinking of his/her previous peers as direct reports and likely start acting more like a manager than a friend. For the new direct reports, it's just the opposite! They need to start relating to that NextGen leader as their manager with the obvious level of respect and consideration that deserves. The good news is that even for the "runner ups" who may feel they've been left behind there are some simple steps everyone can take to improve the likelihood of success for this sometimes dicey and always complex situation.

Senior management: First and foremost, publicly announce the changes before that promotion occurs. Congratulate the NextGen leader for his/her dedication and hard work, and recognize everyone else for their continued commitment to supporting the team. Talk to any runner ups individually and share your appreciation for what they do as well, clearly articulating what their paths forward may be. Make sure they are on board with the changes, and if not then invite them to get off the bus now before it leaves the station!
NextGen leaders: Talk to your new staff as a group and share your vision for the future with them. Clearly communicate what will remain the same while also distinguishing what may need to change moving forward. It's critical to highlight not only how you need their support to be successful as the new leader of the group but also how you'd like to support them as a leader. Solicit their feedback on what specific requests they may have for you and invite anyone with concerns to discuss them with you one-on-one as the transition continues.
New direct reports: This one is especially important for anyone who feels he/she was overlooked or otherwise slighted in the promotion process. Be sure to meet with your skip-level leader – your new boss' boss who made the promotion decision – as well as your new direct supervisor to discuss why you may not have received the promotion. Clarify exactly what you can do in the future to be more "promotable". Also, determine if there are any special projects or other opportunities you can support near-term to gain additional experience in the areas that may seem to be lacking. You can request additional training or mentoring to address any perceived gaps as well. Then just monitor the transition to make sure your new leader honors his/her commitments to you for how he/she is going to be as a leader and be prepared to do some trailblazing and find a new path for yourself if it doesn't seem to work out. Be bold and move forward. There's no reason for you to damage your personal brand or try to sabotage the career of another due to a decision that happened in the past. Don't let your future be stuck in the past!
Remember, this isn't just about an individual person being promoted. It's about a lot of people managing through a transition. Together, you all may choose to stay on the same page supporting one another and create an even brighter future for yourselves. It takes a concerted effort to achieve that though and surely will not happen if everyone buries their heads in the sand simply hoping the wind will blow over.
That's why I invite you to be a positive role model in leading your team through this transition – together. Don't sit back quietly and let things fester. Communicate what's going on as it happens and be willing to be a little vulnerable in expressing your opinions and beliefs to anyone who will listen. And if they aren't listening, find a caring and compassionate way to make them!
Do you have to manage someone who used to be your friend now? Need some help getting on the right track as you are promoted into a new leadership position? Give us a call at 866.PLS.DLTAExecutive Coaching page of our website for some additional insights and ideas on how best to navigate this dynamic transition.
(+1.310.589.4600 outside the US) or check out the