Why is it that so many leadership succession processes begin when that very business executive we need to replace announces he or she is going to retire? Isn't that like having the horse in back riding alongside the driver rather than up front pulling the cart where it's supposed to be?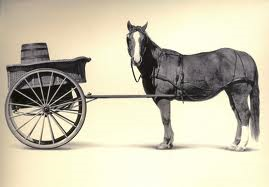 By its very nature succession is a process that takes time – a long time – and cannot be completed overnight. While some organizations have established robust succession management processes over the past few years, many organizations unfortunately are still being very reactive rather than proactive with leadership succession. That leaves very little time to complete the process in a smooth and successful way. Instead, it sets up someone to simply grab the reins and hang on as best he or she can.
With nearly 10,000 Baby Boomers reaching retirement age every day in just the United States, it is highly likely that your senior most executives are at least considering if not outright planning for their retirement. Maybe you just completed a leadership transition with your CEO or one of your business unit leaders. Those few roles may be less at risk then. If you haven't completed the process recently though, your workforce is probably aging, and at least some of those people who have been around the longest may not be around much longer. That means those very people who know the most about your business, your key customers, and your staff are prime targets for succession planning.
Many seem to avoid raising the subject about succession – and especially retirement – because it seems like a touchy subject that could be viewed as a personal invasion on someone's privacy. Others seem to avoid it because they don't have a clue what to do or even where to begin. The sad thing is that this avoidance and lack of a plan only makes matters worse and clearly puts our companies at even greater risk for the future.
In just this past week, I've been speaking with one business owner who finally decided she needs to do something to plan for her and her husband/business partner's succession due to potential health concerns. The concerns being that he may need surgery which could require a very slow and prolonged hospital recovery, and she of course would take herself completely offline to care for him. A double whammy for the business if they don't have a succession plan in place immediately.
And then there is the email I received  earlier today from the President/CEO of a global firm who wants to retire after nearly 30 years at the helm in just another 3 months. Given that it took nearly 30 years to build this successful enterprise as it exists today, I'm guessing it will take a little longer than 90 days to safely transition it to someone else. 
So why is it that so many people resist one of the most natural – and inevitable – of life's experiences? Retirement does not need to be the death of someone's professional identity. Instead, it can be a celebration of someone's 20 or 30 or even 40 years of personal successes and serve to mark the beginning of someone's "third act" in life. My father the former big firm corporate bankruptcy and restructuring attorney couldn't be any happier now that he is retired. And that's not because he plays golf and watches Dr. Oz from his Lazy Boy every day. No, he "works" 20-30 hours per week as the volunteer Board President of a local not-for-profit agency. Unfortunately for him and our family, it took him almost four years to embrace this tremendous opportunity and leave his "second act" in life behind.
There definitely is a profound personal experience intertwined with leadership succession. Our businesses will live beyond these individual experiences though as long as we manage them more proactively. These transitions present such promise for a company's future when handled effectively. You just need to kick that horse out of your driver's seat and put it back in front of the cart!
For some valuable resources on leadership succession you can put to use right away, check out the Succession Planning page of Plus Delta's website. We have posted information there for retiring business leaders as well as those of you who may need some fresh ideas on how to raise awareness for the importance of developing a succession plan for all of your key leadership positions.