Later this month, ASTD Los Angeles and the California School of Professional Psychology are partnering together to host a panel discussion on organization design and the evolving roles of HR and OD in getting the right people in the right place in organizations.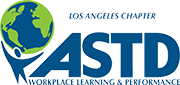 "Org Design" as we call it has become a hot topic in HR and OD circles. So many companies are downsizing one division as they grow another and re-structuring their teams, their business units, and divisions.  If you're in HR or OD and you haven't yet been involved in an org design project, you're probably going to sometime soon. In this workshop, participants will learn what org design is all about and how they can contribute to org design success in the future.
Some leaders act as though organization design is just a matter of reorganizing business structures, processes, and technology. But it's not. People are involved, and their jobs and identities are being toyed with. So how can OD and HR professionals factor in motivation? How do talent assessment and development issues get resolved in org design?  How can HR and OD professionals ensure that people feel motivated to operate in the new organization structure so that they stay productive through the transition?
Click here to register for this exciting program. For people new to org design, Plus Delta's CEO and Chief Architect Dr. Jeremy Lurey and the panel of experts will start by reviewing the methodology itself. They will then look at the evolving role of HR and OD professionals in org design projects.
What? Organization Design: The Evolving Roles of HR & OD in Getting Talented, Motivated People in the Right Places
Where? Alliant International University, 1000 South Fremont Avenue #5, Alhambra, CA 91803-1360 – Building B, Room 101/103
When?  Thursday October 24, 2013, 6:30pm – 9:00pm