I was speaking with another leadership coach yesterday, and we began discussing how the culture for executive coaching is slowly shifting in organizations but is still well-rooted in the past. Several years ago you see, coaching was seen by many – senior executives included – as punitive and only fit for those in need of corrective action. That's so unfortunate though given the tremendous value coaching can offer a high-potential leader.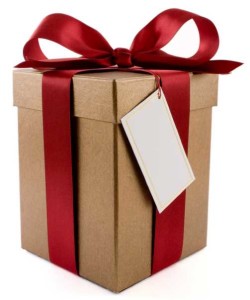 Coaching can be tremendously beneficial for someone who is transitioning into a new leadership role. Coaching is equally beneficial for talented leaders who possess the necessary hard skills to manage a work function or task and simply need a little polishing in the area of soft skills. So many leaders are promoted due to their technical talent that this type of leadership development can all but be expected as a requirement to fill in the blanks of what is otherwise missing from a technician's repertoire until he or she makes the leap to being a leader.
My coaching clients regularly share with me their appreciation for all of the helpful resources (aka presents) I give them throughout our coaching programs. One even shared recently that I made a huge impact on his personal career that he will never be able to quantify – literally forever changing not just his life but also the lives of his two young daughters. The goal of these coaching programs of course being to identify and then address core issues impacting a leader's day-to-day professional life. Always present in these business conversations is what we might call personal matters though because life is life, and you can never completely separate work from home or home from work.
These days HR leaders regularly develop Performance Improvement Plans (PIPs) for folks who – as the title sounds – needs to improve performance. I'm not suggesting these PIPs are not warranted or even beneficial for those individuals who may not be meeting expectations. I'm simply suggesting that this is not the primary focus of leadership coaching even if that's what people thought it was once before.
As my coach regularly shares with me, I invite you to identify an Olympic athlete who doesn't have a coach. If you want to achieve peak performance like a Gold medalist, a coach can provide that unique perspective you will need to get to the next level. That's not an investment a senior executive or Board member makes in an organizational leader though if coaching is intended to be punishment.
Now I've never seen a leader I coach tear my wrapping paper off and open me up like a birthday present. And yes, my trainer at the gym has me do things that feel like punishment on a regular basis. I'm always thankful though because I know that "punishment" is really very good for me, so I choose to experience even his coaching as a present with a pretty bow on top!